So, here it is: My striped dress with collar and thus it is also my first completed sewing project for 2023!
I worked with my own basic bodice pattern with waist and bust darts and a rectangle with the measurements: 2,76m | 3 yards (width) to 68cm | 26,7 inch (length/height) for the gathered skirt, which I divided into 3 parts for seam pockets and centre back.
The front:
I was a bit worried about the horizontal stripes and my non-symetrical shoulders, so I made a "break" into the stripes with the neckline/collar, so that – should the stripes run a bit diagonally (on me) – it's not quite so noticeable. I think I succeeded!
The back:
Here you can see the ribbons that I worked into the side seam of the bodice…. even though I could have tied the bow a bit nicer 😉
A slight side view:
Here you can see how perfectly it fits, and it has to, because with such figure-hugging dresses this is crucial for the feel-good factor, because only a well-fitted dress is also a comfortable dress, no matter how close the fit may be.
The lining:
The whole dress is lined and to give the gathered skirt at least some volume (at the bottom) + I just don't like unlined skirts, I worked the lining skirt with box pleats.
Both skirts are sewn with "French seams", the outer skirt also has pockets. You can find a tutorial for these kind of seams HERE.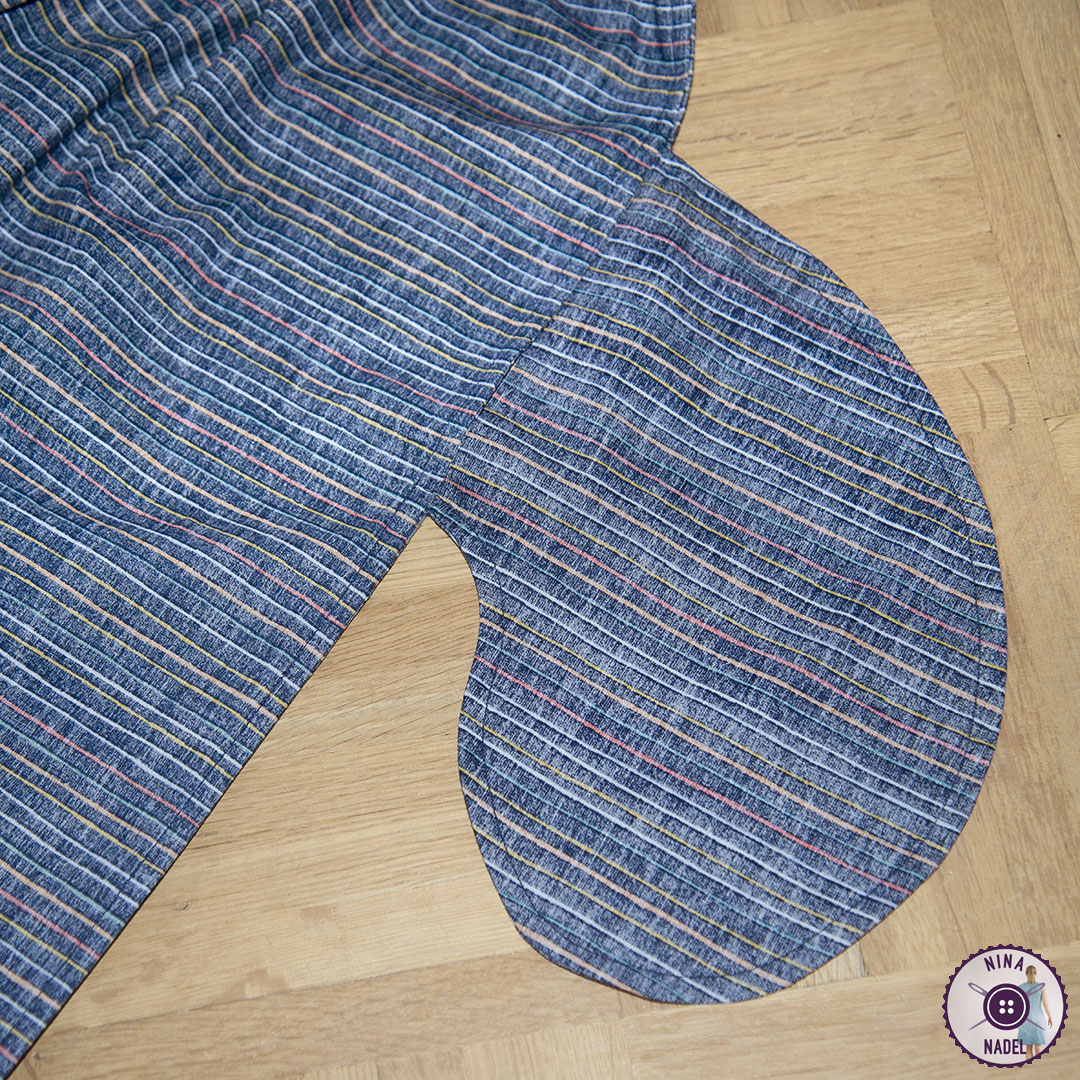 And now a few more detailed pictures:
The neckline / collar
Aren't the buttons – as plain as they may be – great? The colour matches exactly one of the stripes and they come from a button box that I once got as a gift from my boyfriend's mother.
The Zipper:
And I'm really proud of it, look at how wonderfully the stripes meet. I achieved this by first sewing the centre back together with a large (easy to undo) stitch. This way I could easily make sure that the stripes meet each other when pinning. I then ironed the seam allowance apart and sewed the zipper with the teeth facing down to it (normal stitch length). By doing this the zipper can't slip anymore. Then I sewed the zipper again from the outside with a zipper foot close to the teeth. The seam sewn at the beginning with the large stitch setting now only needs to be carefully undone and the zipper is sewn in.
You want a proper tutorial on this zipper sewing technique? Please let me know!
And how do you like it?
If you have any questions about the used sewing techniques, please feel free to email me. 🙂
Info:
The pattern is my own, only the idea of the collar I borrowed from "The Laneway Dress" (by Jennifer Lauren Handmade), which I already mentioned in my first post about this dress. Find a sewing pattern review of "The Laneway Dress" HERE.
related Instagram post: https://www.instagram.com/p/Coo0BRStMjc/