Once again I was allowed to test a beautiful pattern from Jennifer Lauren Handmade.
Although independent feedback was asked for and I have sewn this top with fabric I have bought on my own expense, I got this "test" sewing pattern for free, so this might be some kind of "advertising" and I want to point this out here. You never know… 😉
It has a classic (straight) neckline inspired by the 1950s, a long-line body and 3 sleeve options. There are short sleeves, long sleeves and long sleeves with a long cuff.
Illustration: front page – sewing pattern
Sizing:
This sewing pattern has been around for a while, but now it has been revised and cup sizes have been added to Jennifer's "original size chart" + a completely new size chart for "curvy" figures. Which is also the reason why this new pattern-test has been carried out.
The pattern is now available in the following sizes:
JLH Original size chart:
sizes 6 – 24 (NZ) which corresponds approx. to the European sizes 32 – 50 (US approx. sizes 2 – 20) and these additionally have the cup sizes A – D
JLH Curve size chart:
sizes 16 – 34 (NZ) which corresponds approx. to the European sizes 42 – 60 (US approx. sizes 12 – 30) and these have the cup sizes C – F
This incredible amount of different sizes, which also take into account the different body proportions, I think is absolutely great, because as we all know: Every body is beautiful, but no two are alike! And here you have such a huge selection + in addition, even more fitting tips (eg how to combine different sizes = grading) are available + how to determine the right cup size for you, so that actually every girl/woman can put together HER perfect size.
The pattern:
The newly revised pattern is currently only available as digital* pattern, the original (only standard sizes without cup sizes) is also available on paper, so I think that at some point there will certainly be a paper version for this new pattern as well. I'm very happy though, as I basically prefer digital patterns.
*printable pdf document, where each size comes in its own layer, so you don't have to print all sizes, but can choose one, or if you want to combine different sizes, choose the desired sizes accordingly. As paper formats there are A0 (for the copy shop) or A4 (for the printer at home).
The instructions:
It is very well described how to choose the right material for this pattern and also how to sew it, whether with the normal sewing machine or with an overlock. Also tips on the optimal "sewing machine needle" are given and which stitch settings are suitable.
The actual sewing instructions are structured so that you can follow it quite easily step by step + it has a lot of helpful illustrations.
My test:
For my Gable Top I have used a cotton jersey (92% organic cotton, 8% elastic), a rather stable jersey, but which keeps its shape very well.
The size I went for was size 8 (34) with a D cup, as that is the closest to my actual size.
The fit:
Finally a top that is not so short. Normally I have to extend each top significantly, I have quite a high waist, but the distance between my waist and my hips is quite long, so all "bought" shirts normally do not even reach my waistband.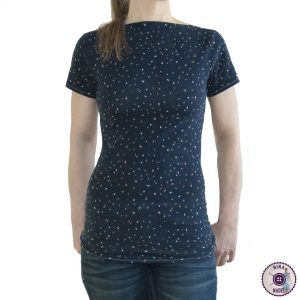 Oh by the way… because of this long and close-fitted form, the Gable Top goes wonderfully with high-waist skirts, especially because it does not slip up and you therefore do not have to constantly tug at it.
The neckline however was a bit tricky for me, because my shoulder bones (arm balls) are higher than my actual shoulders, so that such straight necklines always slides up on my body, but for the test I did not want to make any changes – the feedback should refer to the original pattern + jersey forgives a lot. 😉
The good thing: The instructions describe exactly how to adjust this neckline to your own body and I therefore I was able to achieve – despite my shoulders – quite a good fit of the neckline. For me and my body, however, I will – because I really love the look and the fit – lower the neckline a bit for my next versions and not only when sewing the neckline, I will lower the neckline at the pattern a bit before sewing the next one. But also this top – as it is now – is already one of my favorite shirts.
My conclusion:
Who is fashionable into vintage and the 1950s, I think this top is an absolute MUST HAVE. A wonderful basic piece of which you can not have enough in your closet. And with different jersey qualities you can also vary the look a bit. So I imagine that with a slightly stretchier jersey – as here in my example – the fit will go even better with jeans.
Thank you Jennifer for this beautiful, great constructed and when it comes to sizing sooooo extensive sewing pattern and also for the fact that I was once again allowed to be one of your testers, it felt soooo good to be able to help, especially because at the time of the test so much was not possible because of Covid and I personally often felt "useless"!