Today I would like to introduce you to my second knitting pattern. 🙂
(Advertising on own behalf!)
Magda (by Nina Nadel)
MAGDA is a bolero resp. shrug with vintage touch and wide sleeves, that can be worn nicely over sleeveless dresses on cooler days or evenings. But it also looks really nice with jeans and top.
The knitting instructions contain instructions for the sizes XS – XXL and tips for individual size adjustment. The lace pattern is available as text and as charted stitch pattern. Languages: German & English
Where can I get the instructions for Magda?
The knitting pattern for MAGDA ist NOW available: BUY it right NOW!
or go to the product page at Nina Nadel's Ravelry Store first.
Info: "Ravelry is a community site, an organizational tool, and a yarn & pattern database for knitters and crocheters." (quote: Ravelry)
To use all functions, you need to have an account, but it's free. If you don't have or want to open a free account at ravelry, you are still able to buy my pattern, just use the links above.
How it works
The main part (= the body) is worked in a chic, yet not too complicated lace pattern. The cuffs and collar are worked in a 2×2 rib stitch pattern.
The body is knitted in rows, the cuffs and collar in rounds, and since the cuffs and collar are knitted directly on, by picking up the needed stitches from the body, only a small part for the sleeves needs to be sewn together and the remaining threads woven in. It is therefore worked "almost" in one piece.
Size Chart
What do you need?
Knitting instructions: MAGDA (Get it HERE)
Yarn: Fraya Sensible or a yarn of similar quality
Consumption: XS approx 375g | S approx 400g | M capprox 430g | L approx 460g | XL approx 505g | XXL approx 535g
Needle sizes: 4 (GER), 8 (UK), 6 (US) for lace pattern and 3 (GER), 11 (UK), – (US) for 2×2 rib stitch pattern (or needle size required to achieve gauge)
Gauge: 24 stitches x 32 rows (in pattern) & 29 stitches x 35 rows (in 2×2 rib stitch pattern)
Extra: wool needle to weave in the remaining threads
Fraya Sensible by Stoff&Stil:
– colour used in the example – dark plum
– a superwash treated yarn made from 100% wool, which is a a bit more stable and keeps its shape
– machine wool wash 30°C, dry flat
Info: Although I mention this yarn in my instructions (I was allowed to do so by the manufacturer), I have neither been paid for this naming, nor have I received the material for the development free of charge, nevertheless due to my linking here, I would like to point out that this might be "unpaid advertising", you never know!
Level of difficulty + knitting knowledge
MAGDA is worked with knit & purl stitches, yarn overs and right as well as left leaning decreases.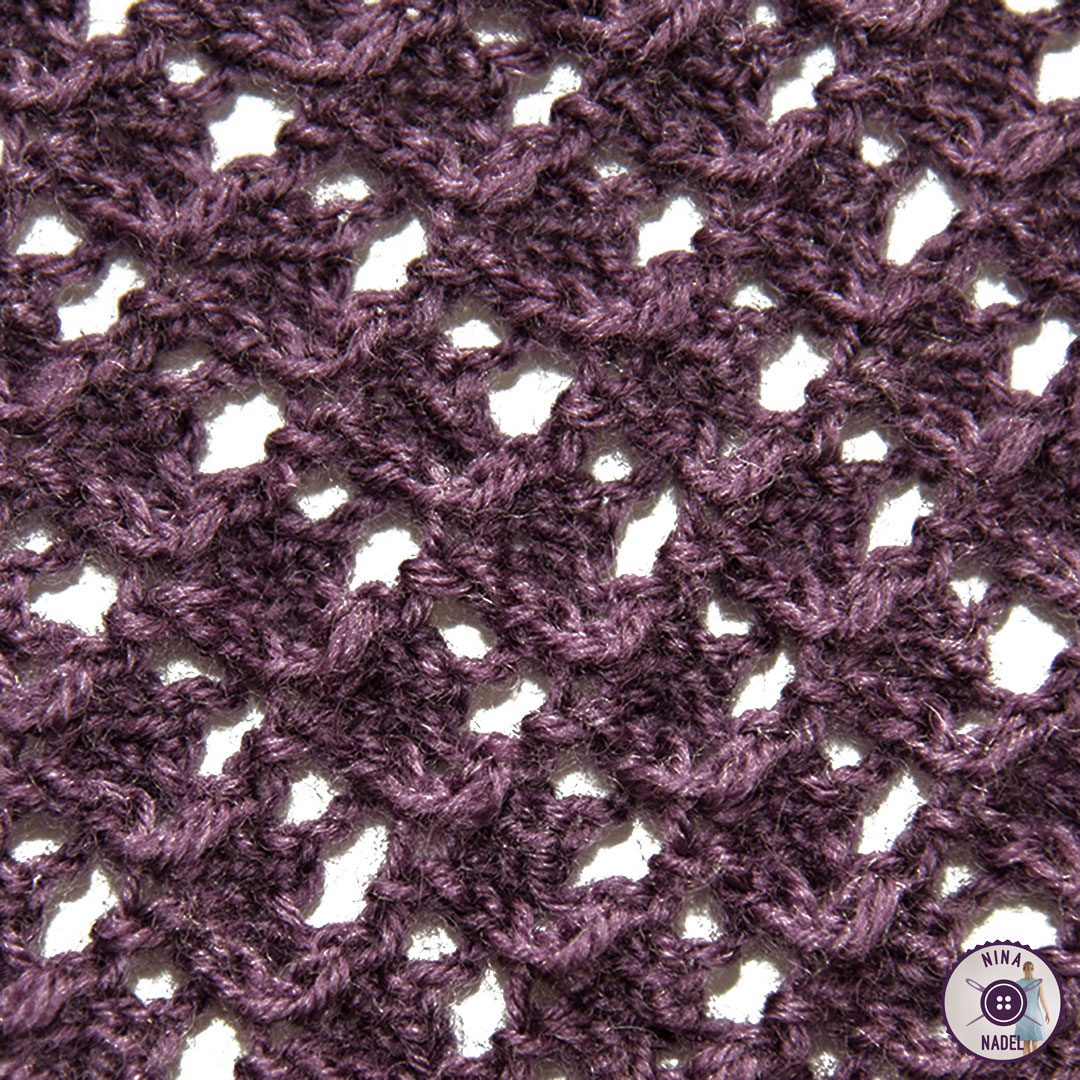 The lace pattern instructions are written out as text, but there is also a charted stitch pattern available. Depending on what you prefer to work with. In addition, there is a corresponding glossary in the instructions, which not only describes the abbreviations, but also explains the required knitting techniques. (Difficulty level: medium – at least: advanced beginner with a little patience – because you first have to get used to the lace pattern).
My wish
I really hope that you like MAGDA. Photos of your finished Magda would make me really happy, as well as the hashtag #NNMagda (@NinaNadel) if you publish photos yourself on e.g. Instagram. I am also available to answer questions during the knitting process, but please try to find instructions for the different types of stitches on the internet first, they exist!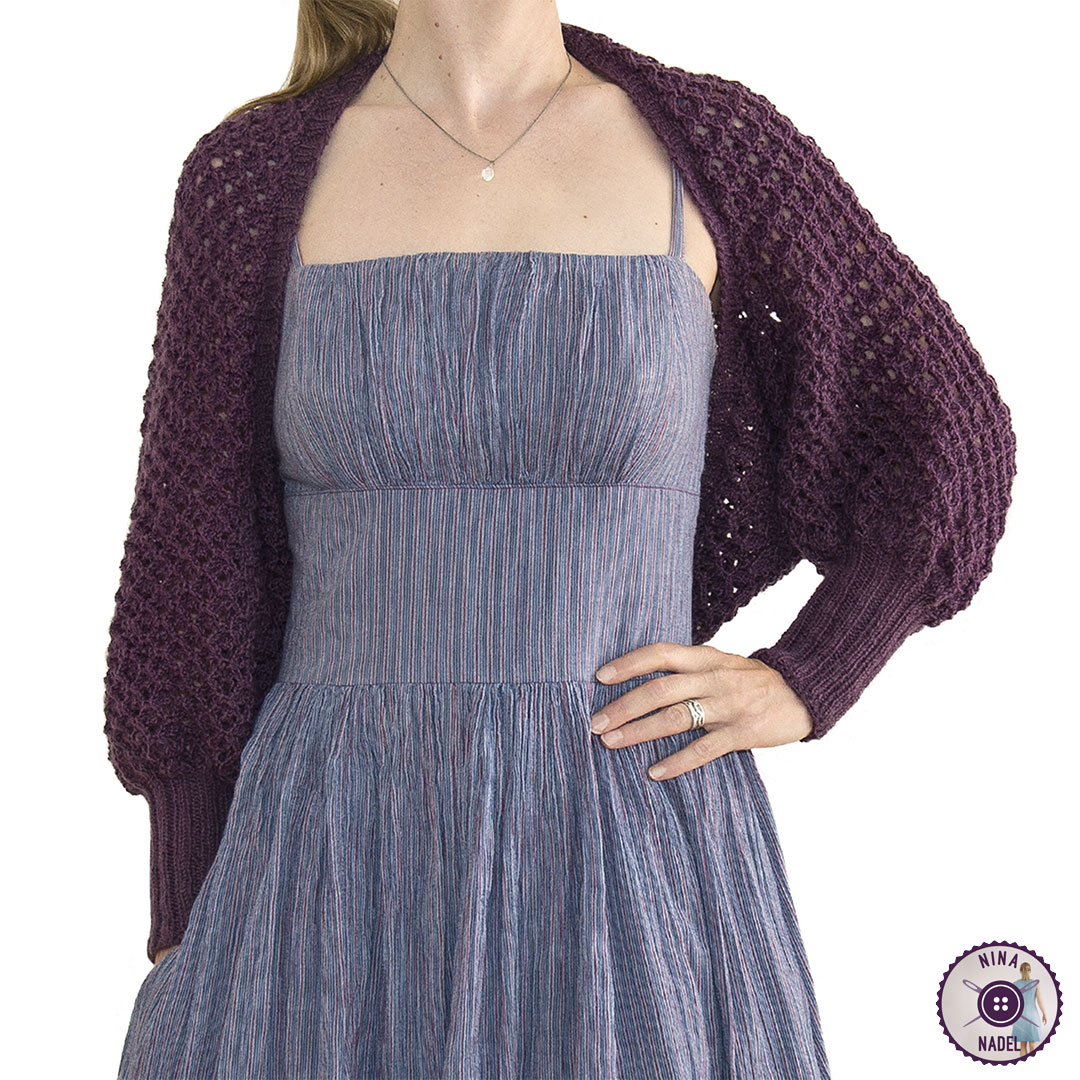 Have fun knitting!