Once again I used my self-constructed dress top with rotated darts. However, this time I used a fabric with vertical and not one with horizontal stripes. The optical effect is not that striking, also because the stripes are quite fine, but I still think it looks super nice!

*Find – How to create this look using a dress pattern with bust and waist darts in 5 easy steps – HERE.
(Sewing-Instructions -> Stripes: Dart Experiment!)
The dress is fully lined and has in-seam pockets. I sewed the gathered skirt (+ the pockets) with French seam, because the main fabric is quite translucent and I wanted the seams to be clean and unobtrusive. Also the lower part of the back seam (under the zipper) is sewn this way.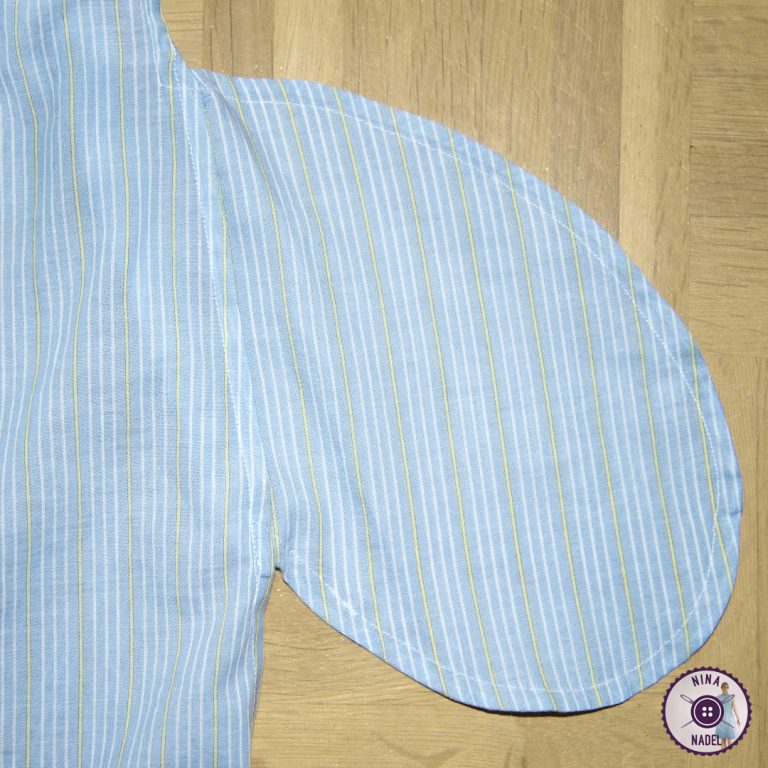 *Find – How to sew in-seam pockets with French seam – HERE (Sewing-Instructions -> In-seam pockets with French seam)
At the waist I have added a ribbon to each side seam to be able to adjust the waist width a little – e.g. when you go out for a decent meal 😉 – And I added a bright yellow button to each side. The button is sewn to the ribbon only and has no other function than to look pretty.

And this is how the whole dress looks like:

How do you like it? The fabric is so wonderfully light and airy that I can hardly wait to wear it in hot temperatures!