Soooo today I'd like to tell you about my experience with the sewing pattern of the Pepernoot Coat – Hooded Coat -Pepernoot- (size 34-48) – by Waffle Patterns | yuki design
About the sewing pattern
The sewing pattern comes as a "layered" pdf document. This means that you can view each size of the pattern individually and print out each size on its own. This saves ink on the one hand and it also creates more clarity. Because as most of you already experienced, when working with multi-size sewing pattern without "layers" in places such as darts you usually can hardly make precise distinctions about which "line" belongs to which size. So this is definitely an advantage! The print settings for this and usually every pdf-sewing-pattern is unscaled, so print at 100%.
Sizing and adjustments
After a detailed study of the sizing chart – I realised, that I will need 2 sizes for my proportionst, so I printed both in one, size 38 (for shoulders & chest) and 36 (from the waist down). Starting from the lower armhole I then connected both sizes with a line and cutted out my "adjusted" sewing pattern. Since I'm always skeptical (experience), especially when it comes to the fitting at shoulders and upper back, I first sewed a test version. And wuuuhooo everything fitted really well. Only at the lower back I thought that it might be a bit too big for me, but since I want to sew a wintercoat with a warming quilted lining, I decided (finally I have to say: Great choice!!!) against any more adjustments (except for the combination of my 2 sizes).
Tip: Since you normally "just" sew the shell of the coat for such a test version try it on with a correspondingly large and thick sweater, because in the end it is getting a little smaller as soon as you put in the lining AND – if you want to sew a winter coat like me – you also want to be able to wear appropriate warm clothes underneath.
Which material to use?
So far so good. As eager as I am I would have loved to start immediately, but first I had to clarify the following questions for me: What kind of fabrics do I want to use? What details do I want to sew in and what kind of material do I need for that? Since I do not like synthetic fibers (like Softshell or Fleeze) and Walkloden simply feels too heavy for me, this was a tough question! Ultimately, because I fell in love with the colour, I chose a simple cotton twill in gray-blue from stoffe-hemmers.de , whether this is/was the right choice (the fabric wrinkles a lot) I'm not sure, but at least it wasn't too expensive, although it is of really nice quality.
Lining
As lining I wanted a really warm quilted lining, because cotton twill does not keep warm. Therefore the warming quality of my winter coat has to come from the lining alone. But also this plan was hard to fullfill, because I wanted some "pep" for my coat. And while searching different fabric stores (local as well as online) I only found monochrome quilted lining and that simply felt too boring for me. In addition, I already have an "autumn coat" with bought quilted lining and that's not warm enough for the winter. So what now?
Result: I seeked some information about all possible volume fleeces that are available on the market and then found a High-Tech Thermo Insulation – Fleece from MEIDA®. It is supposed to be thin, soft, light yet wind resistant, highly insulating and breathable. Wow …. what else can you ask for, right? But this volume fleece alone is still not a real lining you can work with, so I needed a nice patterned lining taffeta to be able to make my own quilted lining. This I finally found at the eBay-store of Nirotextil . All other "ingredients" such as yarn, buttons, piping, zippers, as well as the sweatshirt fabric for the inner hood are from Stoff & Stil.
The instruction guide to my DIY – Quilted lining you can finde HERE!
Back to the sewing pattern
The instructions & the pattern is available in English and Japanese. It is very well illustrated and despite the rather short description very easy to understand. For sewing beginners, however, I wouldn't suggest this sewing pattern, as some sewing skills are assumed. (the sewing pattern therefore is described correctly as "advanced")
The sewing pattern has a seam allowance of 1.2cm included, which (fortunately) is indicated on the pattern. Reason: when sewing I always orient myself on the scale under my presser foot and my sewing machine only has the following subdivisions: 1cm – 1,5cm – 2cm – etc. So I cuted away the seam allowance from the paper pattern and then draw my desired seam allowance of 1cm around the pattern pieces when/before cutting the fabric. For me this therefore is no problem at all.
I then sewed the shell of my coat. Here I worked with piping (to emphasize the great rounded seams at the upper part) and also used it as edging for the cuffs. (see photo below) Was a little scared of the pockets, or better the zippers that are supposed to be sewn into the pockets, because I had never sewn pockets like this before, but by following the instructions step by step, my fear was unfounded.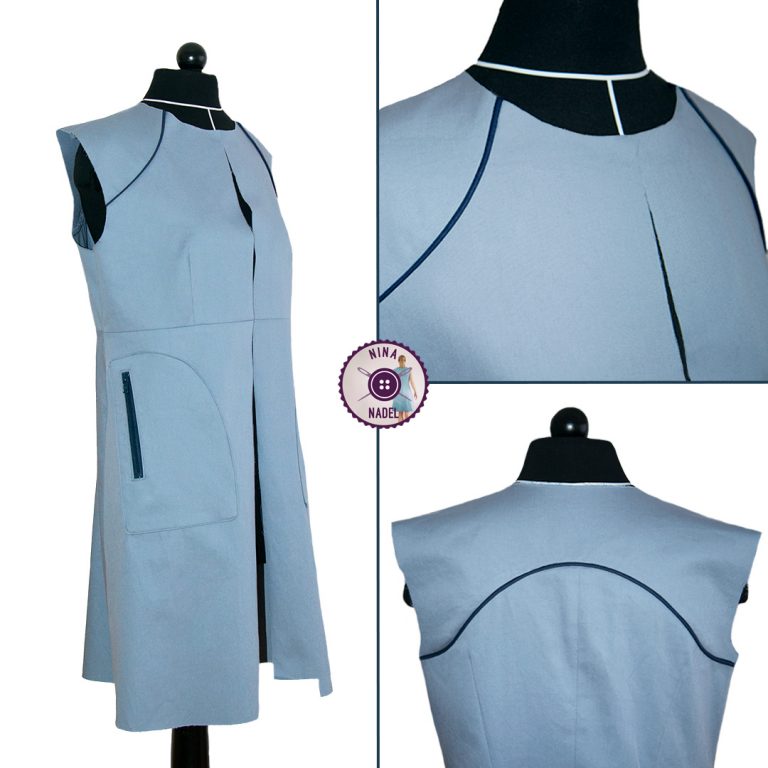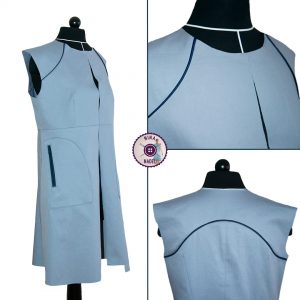 And even the sleeves, although they are constructed with some ease, were easy to sew in by following the instructions (although I have to say that I always use this method to sew in my sleeves). Here in the photo the sleeves still look quite crumpled, but remember, in the end there will be my quilted lining underneath it!
I think the instructions (for my sewing level) are perfectly adequate, easy to understand and easy to implement.
Little point of criticism
There is just one little point with this pattern I have to complain about:
The pattern for the lining! The sample photos this coat sewing pattern is sold with show a thick winter coat with thick lining. The sewing pattern itself then contains just a lining pattern for a simple thin lining. Although this is already said in the description on the website, I still think it's a bit misleading. Because why show something different than what you sell in the end?
What really irritated me was that I unfortunately could not find any information about whether this lining pattern is also suitable for a thick quilted lining or if it does not fit or perhaps even distort the coat. Finally, after asking a few other seamstresses who have already sewn this pattern with a thick lining, I used the lining pattern as it is. And it fits great!
Well maybe I worry too much sometimes! 😀
However, at this point I would have wished for a little more clarity, because such a coat is quite a big project, which depending on the fabric can be quite expensive.
Lining Coat
And here it is, my lining coat:
In the photo you can also see the individual parts of my self-made quilted lining. The instructions for this DIY – Quilted lining can be found HERE!
Important: If you, like me, only have the lining as the warming part for the coat, please put some volume fleece underneath the facings (these are cut from the outer fabric). Otherwise you have a large part of the front, as well as the edge to the hood on the backside unlined. To do so, cut the pattern pieces for the facings out of the volume fleece as well and then process volume fleece and outer (main) fabric as one layer. + Make sure you include all the given "pleats", otherwise the lining might make the coat a little "tight".
On the following photos you can (hopefully) see some of this pleats (to make some room). These are located on the sleeves as well as on the waist seam.
As a little extra, because I think it quite useful, I sewed in a loop to be able to hang up the coat without a clothes hanger and even made a pocket into the lining. And although the pocket didn't turn out as perfect as hoped (it was my first try), it fulfills its purpose and I still think it was a great idea. 😉
Sewing
The only part where I did not follow the instructions is the part of how to sew in the hood. Instead I did it the way I always do it. Outer fabric hood to outer coat and inner hood (made out of sweatshirt fabric and volume fleece) to lining coat. Only when inserting the lining into the coat, I connected them. But after that (ie the completion of the coat – the insertion of the lining into the coat) I followed the instructions again and I like the result very much.
Although I'm not a big friend of sewing by hand, to sew the hem and the sleeves hem by hand was certainly the best choice for my thick lining, because nothing has warped and no "bumps" turned up. At the very end I made some buttonholes into the cuffs (instead of just sew on the buttons, because I think it suits such a great coat much better) and sewed on the matching buttons.
Winter coat
My new winter coat is now finished and YEAH, I love it. <3
It fits exactly as I imagined and I think it looks amazing too. Currently it's still a bit stiff and crinkled (especially at the sleeves) though, but that was my last with such a lining too, that will go away after wearing it for a while.
(Note: To some of you the sleeves may seem a bit too big and too long, but since this is supposed to be a wintercoat and I usually wear "onion look" in winter, I really need them to be that way to feel comfortable in it and to not get cold fingers on my bike!)
Whether the volume fleece holds what it has promised, we'll see, but when trying it on here in the apartment I felt almost immediately too warm. So it seems promising!
My conclusion
I can really recommend this pattern, although not for sewing beginners, the "advanced level", as indicated in the pattern, is quite appropriate. The details are just beautiful and well thought out, the sizing chart for this pattern is also accurate and the instructions (as far as you understand English or Japanese) might feel a bit short sometimes (bullet points), but they are well written and in combination with the given graphics easy to understand.
Thank you Yuki for this fabulous sewing pattern, I'm already in love with some of your other patterns! 🙂