I was lucky this time and made it into Jennifer's tester group and was allowed to test the sewing pattern of the Kinfolk Dress by Jennifer Lauren Handmade.
Unfortunately, I don't always succeed, because I often get the email request and the message that the group is full at the same time when I check my emails in the morning. The time difference between New Zealand and Germany is simply too big. So I was really pleased! I love her patterns and when I can help to make sure that the pattern comes out flawless and with a good fit, I am very happy!
Although independent feedback was asked for and I have sewn this dress with fabric I have bought on my own expense, I got this "test" sewing pattern for free, so this might be some kind of "advertising" and I want to point this out here. You never know…
The Kinfolk Dress
The style of this dress is described as follows:
"A sleek 40s bohemian style dress, loose and flowy with waist ties for definition" (quote: cover page of the pattern)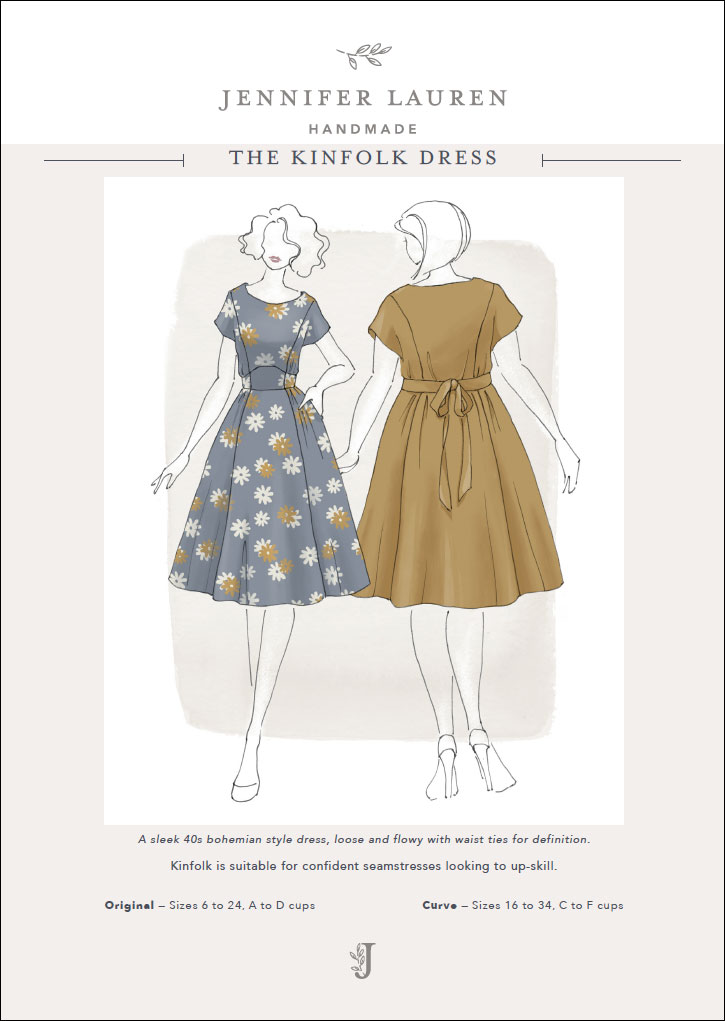 source: Kinfolk Dress Pattern
Sizing:
This pattern is available in "normal proportion" (original) sizes 6 – 24 (NZ) which corresponds approx. to the European sizes 32 – 50 (US approx. sizes 2 – 20) and these additionally have the cup sizes A – D.
But then there is also a "curved proportions" (curve) pattern in the sizes 16 – 34 (NZ) which corresponds approx. to the European sizes 42 – 60 (US approx. sizes 12 – 30) and these have the cup sizes C – F available.
Each pattern line (original & curve) can be purchased as a digital pattern individually or as a bundle.
The pattern comes as printable pdf document, where each size comes in its own layer, so you don't have to print all sizes, but can choose one, or if you want to combine different sizes, choose the desired sizes accordingly. As paper formats there are A0 (for the copy shop) or A4 (for the printer at home). An explanation of how to use the individual printing functions is included in the instructions.
The sewing pattern
is described as follows: "Kinfolk is suitable for confident seamstresses looking to up-skill.." (quote: cover page of the pattern)
And I have to agree with Jennifer, I have already bought, sewn and reviewed several of her patterns on my own, as well as tested them and I have learned something new with each of these projects.
The instructions (which are very detailed and well written) are equipped with easy-to-understand graphics.
The instructions also contain help for finding your correct size (in general) and your cup sizes and also explain, for example, how to combine two sizes for in-between sizes. In order to get a good impression of the individual sizes, there is a size chart for both lines with the actual body measurements (for selecting your size) and then one with the measurements of the final dress in order to be able to estimate the by the designer "planned" fit for this dress.
There is also a cutting plan, fabric recommendations and quantity information, a list of additional materials needed and some more info, such as a glossary with explanations of sewing terms and techniques. Oh and before I forget… seam allowances are already included in the pattern.
About the test:
For this I got the pattern and the sewing instructions, but these were at that time only equipped with a technical sketch and not with pictures (drawings and/or photos) of the finished garment, so that one could actually only roughly estimate how the dress should ultimately look.
I always find this point/part particularly exciting! You have a rough idea, but not an exact picture. But that's something I think is right for a test. After all, you are supposed to approach the test with an open mind and answer the designer's questions with the help of the given catalogue. The Designer can then evaluate all the tester feedback and, if necessary, make changes to the pattern and/or correct mistakes before publication.
My test version:
A photo of my preparations for the test you can find HERE.
But now photos of my test version of the Kinfolk dress in my size. WITHOUT any alterations or adjustments, because that's what the test is about.

And what can I say, you can see it… It fits wonderfully, even the sleeves! 😀 (something that normally doesn't happen with me – if you follow my blog) And I really like the dress, it's airy and comfortable, it is pulled over the head and has no zipper. Nevertheless, it doesn't look "clumsy", but has a – in my opinion – quite elegant touch.
But since I wanted to have a real, i.e. wearable version of this dress, I still adjusted the pattern a little. This adjustment would not have been necessary, but it made sense for my personal taste and well-being.
My adjustment:
There was only one. I left the shoulders in my size (original size 8, D-cup), but since I have broad shoulders but a very narrow back, I then downsized (graded) the pattern to size 6, D-cup.
Reason: I have almost straight and rather narrow hips (my hips measurement corresponds to size 6), which is not a real "counterweight" to my bust.
Result: Due to this downsizing, I now have less fabric around my waist, which thus with the help of the tie straps does not have to be gathered so much, especially at the back. As a result, my body looks less "boxish" and looks much more elegant/feminine. And that's exactly what I want. I have worn too big and shapeless clothes for far too long, precisely because I don't fit into the standard sizes and always had to compromise on the fit. Just to make it fit somehow.
So please don't get me wrong, I'm not complaining! I like my body, actually thanks to sewing I like it a lot now. I just had to learn that it wasn't my body that was wrong, but the clothes I was trying to wear.
And here are now some photos of my final version of the Kinfolk Dress
I sewed it from a viscose-linen blend fabric, which has a really soft drape and therefore nestles wonderfully around my shoulders.
Front view:

Side view:

Back view:

So, how do you like it?
I love it, it's so incredibly comfortable and I feel great in it!
My conclusion
A beautiful, extremely comfortable and light dress. The pattern is well thought out and constructed, the instructions are detailed and easy to understand. So anyone with a little sewing experience should be able to make this pattern effortlessly.
By the way, the feedback on this test was that the pattern did not need any real further changes or adjustments due to the tester-feedbacks, only little things like the one or other notch had slipped a little during grading for the different sizes and was put back in the right position, or that the waist ties now have lengthen/shorten lines.