or "Jeny's Stretchy Slipknot Cast-On" is a very elastic method to cast on stitches for knitting projects, developed by Jeny Staiman. This method is the counterpart to "Jeny's Surprisingly Stretchy Bind-Off" – a very elastic method to bind off stitches.
I use both of these methods in nearly all my knitting projects, because they are wonderfully elastic and once you get the hang of it, they are easy to implement. Of course do not use this method – for example – for projects where you want to keep a wide neckline stable. 😉
But while "Jeny's Surprisingly Stretchy Bind-Off" is quite well known by now, the cast on method "Jeny's Stretchy Slipknot Cast-On" is still relatively little represented on the internet.
How do I elastically cast on stitches for knitting?
Answer: Jeny's stretchy cast on
My instructions:
photos 1 – 4:
(1-3) Make a slipknot and (4) place it on the needle.

photos 5 – 8:
(5) Hold needle in right hand, lift working yarn with left thumb (from back to front & hold the yarn with the last three fingers of your left hand tight), (6) take the index finger, guide it over the working yarn and from below through the wraped yarn on your thumb and (7) let the newly created loop slide onto the index finger
– (8) you now have a new loop.

photos 9 – 12:
(9) Insert this loop with the needle from right to left and (10) place it very close to the first slipknot on the needle (do not tighten yet & keep the yarn taut with your thumb). (11) Guide the yarn from front to back over the needle and (12) pull the working yarn throught the loop.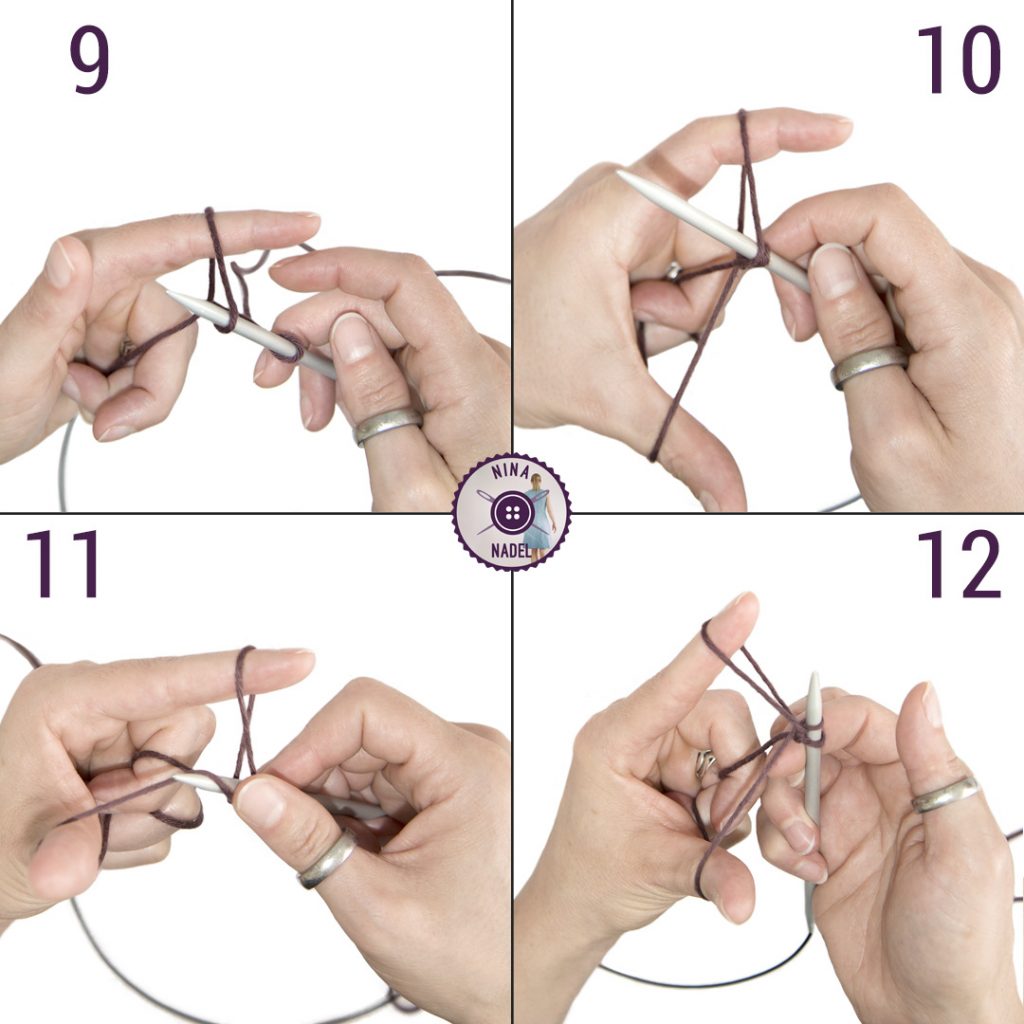 photos 13 – 14:
(13) While tightening the loop place your index finger or thumb onto the loop (stitch/slipknot), so that it will not get twisted when tightening. Repeat steps 5 – 13 to cast on the required number of stitches. (14) Make sure that the slipknots are all directly next to each other, because with this cast on method you cannot correct the distances between the stitches later on and therefore – if not taking care of – you will get very very large gaps between your stitches.