After sewing the CHARDON Skirt (for a photo of my version of this skirt: click HERE) by Deer&Doe some time ago (Oct. 2017) and being more than enthusiastic about the look as well as the fit, I recently rummaged through their online shop again.
How precisely are the sizes specified and with which cup size do they construct their patterns? And of course, which sewing patterns are also available as digital download (pdf-pattern)? I don't know, but somehow I'm not a big fan of printed sewing patterns. Not because I do not like the nice look of them, it's more because I can be terribly impatient and therefore do not like to wait till they are delivered via mail. So far there are only some of the Deer&Doe patterns available as digital download, but it seems, or better, I hope, that the others will follow soon.
And guess what I read while looking at their website: ""Deer&Doe is based on an hourglass-type morphology, i.e. a slim waist and a generous bust and hips. Patterns will fit perfectly on C-D cups, …" (source: Deer&Doe )
The pattern
Yeah … that's all what I was hoping for and therefore I simply couldn't resist any longer. I going to get a sewing pattern based on a cup size of C – D, as digital download and with such a wonderful design as the BELLADONE Dress . Okay, I do not have particularly pronounced hips. I'm built more "straight" and need the width from the sides of a skirt more at my backside, but so what. A skirt can be adjusted much easier (if necessary at all) as a top with bust & waist darts (ie FBA = Full Bust Adjustment, bust point correction, etc.)
The sewing pattern (pdf)
No sooner said than done! I bought the sewing pattern and it was easy to download, to print (100%, unscaled) and to put together. The sewing pattern comes as a "layered" pdf document, so I was able to "click away" not needed sizes and to print only the two sizes (bust 38 + waist & hip 36) I needed. You can find upper front, waistband and skirt together in 1 pdf document. The two model variants (A + B) for the backside in two different pdf documents (one pdf each).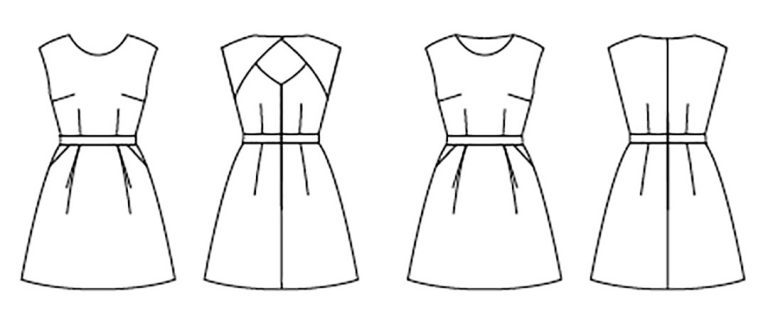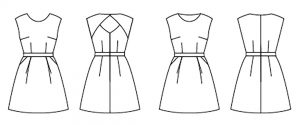 (left: version A | right: version B)
At this point, however, I realized something, something that also disturbed me with the pattern of the CHARDON skirt. The pattern is available in French & English , which is great. However, if you do not speak French, but you are European and grew up with the metric system, you might find this as irritating as I did. Reason: All specifications in the English-language sewing pattern are given in inches and yards only. So you have to open the French version and match the specifications accordingly and write them down separately, if you do not like to look them up again and again while sewing with the help of the instructions. Here an addendum of both measuring systems would be really desirable. Otherwise, the instructions are very well written and easy to understand.
Grading
First of all I decided to make a test version. As mentioned above, I decided, after studying the sizing chart, to go with a combination of 2 sizes (grading between sizes) which respectively matches my measurements. So I took a size 38 for the upper dress and reduced the back (starting from the lower armhole) to a size 36. The same I did at the front, but here I started to size it down at the bottom line of the bust dart. The waistband (and the skirt, which I have omitted for my test version) are a size 36.
The pattern variants
Basically I have to say that I think that variant A of the pattern looks much more exciting. But such "openings" always look kind of funny with my protruding shoulder blades. It fits really tense on the sides and the fabric in the middle collapses. Or depending on how I move, everything simply looks wrong. So I opted for the closed back variant B, which I think looks really nice as well. 😉
My fit optimizations
I have made a small fit optimization here, however, I didn't test it. I simply made it, because that's the way I am built and without it my clothes always look askew on my body. I shortened the back of the right upper part by 1cm at the shoulder seam. And here is my finished test version and wooooow, I honestly still can't believe it. The upper part of the dress fits just perfect. Back length, bust point, darts, everything seems like it was made for me. Hurray!!!
While this may not necessarily tell you something about how this sewing pattern fits on other figure types than the hourglass-type that Deer & Doe uses as a base, those who are at least built similar to this figure type will love this sewing pattern.
FBA and SBA
However women with a smaller bust than cup-size C-D will certainly have to reduce the bust size (ie make an SBA = Small Bust Adjustment) – at least for this sewing pattern. But if you are willing to give it a try, just have a look at the blog of Deer&Doe. There you can find tutorials and techniques for these adjustments (SBA, FBA, Grading between sizes). These instructions are not given for all patterns but some of them are transferable from other patterns to this one.
My sewing style
During the sewing process I decided against the use of the neckline facings and the bias binding. Instead I lined the top of the dress including the waistband, but that does not really change the look of the dress from the outside. The skirt somehow felt too short for me and I have extended it by 5cm (at the given "lengthen-here-line") and used a facing for the hem, because the cotton fabric I used fringes just terrible.
The top of the dress from the inside and the outside:

The skirt pockets and the hem (from the outside and the inside):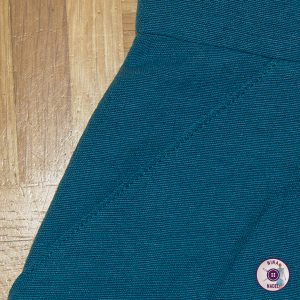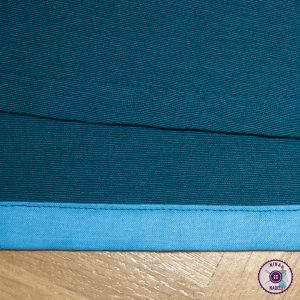 My result
I present to you: My BELLADONE Dress
And I'm really proud of it. I like my colour choice, although these fabrics are really just leftovers. I love the fit of the top, as well as the fit and fall of the skirt. By the way the skirt has pockets. 🙂
Incidentally, the hummingbird-ornament is also made by me, I call it "drawing with stitches", because a lovely sewing pattern simply deserves a very individual detail.
My conclusion
Beautiful and highly recommended dress sewing pattern for women with hourglass-type figure and a cup size of C-D. The sewing pattern comes with 2 lovely variants for the back, skirt pockets and a waistband. The instructions are well written (French + English) and in addition with the given graphics easy to understand and to implement. The sizing specifications are precise, although I would like to have metric-system measurements (at least in addition) in the English version too. The sewing pattern I would classify as "beginner", however, some experiences with how to sew in an invisible zipper might be quite helpful. Although this procedure is also well explained in the instructions.
Thank you very much Deer&Doe for this wonderful sewing pattern, it certainly will not be my last Belladone dress. And hopefully there will be other patterns, such as the CENTAURÉE dress or the BRUYÈRE shirt available as a digital version soon. <3