With great enthusiasm I already wrote a sewing-pattern review about the pattern of the Belladone Dress (Deer&Doe) some time ago. Because good patterns for everyone with cup sizes larger than B, are rare and this is just one of my favorites (it has a D-Cup).
Unfortunately due to the closed back and covered shoulders it was (and yes to all infidels: since the beginning of May we had very summery temperatures – always between 24°C & 34°C – in Hamburg ) a bit too warm for me in the last days so I tried to "hack" this pattern and make the top of the dress a bit more light but in a way that it still covers bra straps.
By the way…. you can do this kind of modifications to nearly ever pattern you like (or which fits you best), just give it a try! 😉
Here you can see what I have changed to make it look the way I want: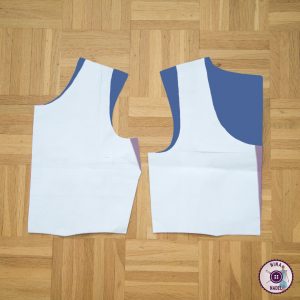 In this picture, I marked in Blue what I cut off the original pattern parts and marked in Purple which parts I corrected (reducing width) later after testing my changes. In words: At the center back (because with my new lower back neckline my shoulder blades need less space) I took away a wedge from top to bottom starting at about 1cm (please keep in mind, that with this step you take away 2cm) and also reduced the width at the front with the help of a small wedge at the armseye, since the fabric was still sticking out at this place. This correction was only necessary at the front, not at the back.
IMPORTANT: Test your changes/adjustments, because small changes may well lead to a different fitting and further adjustments may be necessary. Because in the end you want your "new" dress fit as you imagined, especially if you are working with expensive fabrics!
Although this color is indeed my absolute favorite, to my regret this fabric is very thin, so I decided to make this dress with a complete lining. And although I really love pockets in dresses I decided against them – because of the lining. And to make the skirt pattern piece work without pockets I put both pockets pattern pieces congruent one above the other and then put these two on the front skirt part and repainted the rounding of the missing edge. (here (next photo) I have marked the attached edge Blue.
And here it is:
My modified and slightly lighter Belladone Dress and what can I say, I think it will be my new favorite dress! 🙂